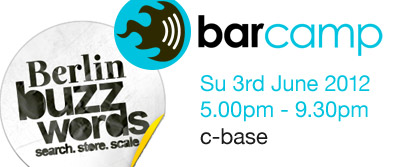 The Berlin Buzzwords BarCamp is back for our third year! Come along again for great discussions and knowledge sharing with your fellow attendees, on topics like Searching, Storing and Scaling. Note that we're in a different venue this year.
Where: c-base, Rungestraße 20, 10179 Berlin
Date: 3rd June 2012 (the evening before Berlin Buzzwords)
When: 5.00pm – 9.30pm (registration from 4.30pm)
Who: Eligible are all registered attendees of Berlin Buzzwords, who have signed up here
Only people who have put their name in the table below are guaranteed to be let in! If you'd like to come along, please sign up below (in the waiting list – we'll hopefully still be able to make room!), and list a brief bit of your interests.
More info at http://berlinbuzzwords.de/wiki/barcamp
Kommentare deaktiviert für Berlin Buzzwords Barcamp 2012 @c-base