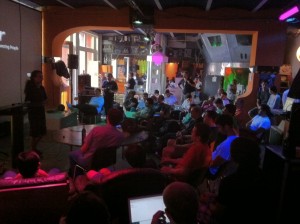 tuesday, 21. june 2011 | 6:30 pm
Hi Hackers,
I'd like to invite you to our second meeting. We already picked a date and hope you all can make it. Please post suggestions for this meeting, may it time, place or other ideas – we just made an offer here.
First first meeting was more than we could have ever expected, it was a blast! This time we'll try to handle the time better and make the most of it. Since we won't have a BBQ this time the break would be limited and we should be finished by 22h (10pm).
The meeting itself will be a usual "Hack and Tell" where you can demo your project, website, library or sth. similar for 5 minutes and discuss your work with the interested crowd. Don't worry if you don't have anything to show, you can also just sit down in the audience and engage in the discussions.
We hope to see you there on Tuesday evening.
More photos from 1st Hack and Tell here: http://www.meetup.com/Berlin-Hack-and-Tell/photos/all_photos/?photoAlbumId=1799851
Comments(1)