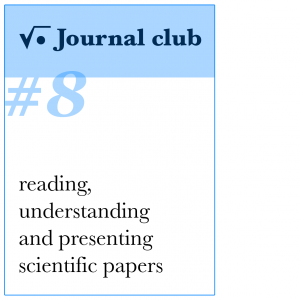 The 8th Journal club is coming up on Sunday the 24.06 19:00 in the c-base seminar room.
Last time we only had one paper about cancer tumor treatment, since our Journal club regulars had to work.
For next time I promise you the paper referred to by xkcd 938.
A wast majority of doodle poll participants spoke out for sunday for the journal club.
The event is for people interested in sciences who have acquired a background exceeding common A-levels in one or more disciplines of either natural sciences or engineering. Whether the knowledge was acquire through university or private study is not important, however a certain level of knowledge is necessary to understand papers in the first place.

Kommentare deaktiviert für 8. Journal Club on June 24th