The war on whistleblowers and Trump's first political prisoner; the case of Reality Leigh Winner, an evening with: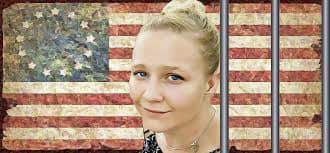 LISA LING (US)
NAOMI COLVIN (UK)
DIANI BARRETO (US) 
From the movies Snowden to The Post, whistleblowers are never far from our screens, or the headlines. Revealing the truth from behind a veil of secrecy and striking back against unaccountable power, whistleblowers are fighting for a democratic ideal at considerable costs to themselves. In truth, as in fiction, they have never been more necessary than they are today. 
The Obama Administration wielded the Espionage Act against more whistleblowers than all previous administrations combined, disappointing many by shooting the messengers rather than heeding their warnings about indiscriminate surveillance, the impact military technology and human rights abuses. The Trump Administration currently has more leak investigations underway than any other previous administration. 
A young woman named Reality Winner has been jailed without bail or bond for 317 days for helping expose Russian hacking that targeted US election systems, and awaits trial in the new administration's first Espionage Act prosecution.
Charged under the Espionage Act, she faces ten years in prison, for making a good faith effort to hold President Trump accountable. Reality is the first victim of Trump's "war on whistleblowers."
After serving six years in the Air Force, Reality took a job as an NSA intelligence contractor in January 2017. On very the day Trump fired FBI Director James Comey (May 9, 2017), Reality is charged with finding and printing a classified report entitled, "Russia/Cybersecurity: Main Intelligence Directorate Cyber Actors."
The next day (May 10), Trump celebrated with Russian officials in the White House, bragging that he had fired "nut job" Comey in order to end any "Russiagate" investigation. Hours later, Reality allegedly sent the NSA report to the media outlet, The Intercept. 
Reality allegedly explained under interrogation. "I felt really hopeless seeing that information contested… Why isn't this out there? Why can't this be public?"
Along with James Comey's leak of Trump meeting notes, the "Winner document" helped set the stage for the appointment of special counsel Robert Mueller a week later (May 17) to investigate "Russiagate."
Reality Winner's case has precedent setting implications for whistleblowers that are putting themselves at risk for the public's right to know, on issues pertaining to Press Freedom, election suppression, and the government's escalating war on dissent. Reality allegedly took a risk to share something that the American public has the right to know.

The Courage Foundation and ExposeFacts recently kicked off events in London and in Graz, to launch a European support network for Reality Winner. We are happy to bring to c-base three figures with experience with these issues for a fireside chat to introduce her case to a German audience.
Our speakers; Lisa Ling, who saw first-hand, the impact of the US drone program before deciding to blow the whistle in the award-winning documentary, National Bird that was recently aired on German national T.V.
Naomi Colvin, Acting Director of the Courage Foundation, and Diani Barreto, Coordinator of the Berlin Bureau of ExposeFacts. The aforementioned co-panelists and organizations work closely together to support and defend whistleblowers and information activists worldwide.
Event starts at
| | |
| --- | --- |
| Monday 16 April, 2018 2000-2200 CEST (EU) | UTC+2/ 1300 CDT (US) |
A livestream will be made available on the c-base website https://c-base.org
The panel will be taking questions from the audience and from the Internet.  Please submit your questions via Twitter using the hashtag #Berlin4Re 
This event was co-ordinated by the Berlin Bureau of Expose Facts, and Courage Foundation powered with the kind support of c-base e.V. and Raymond Johansen

For more information please visit:
We want to thank the following organizations for their continued support:
WHISPeR Program at https://exposefacts.org
Minority Veterans of America https://minorityvets.org
Frontline Wellness at https://www.frontlinewellness.org
Kommentare deaktiviert für Fireside chat: Who is Reality Winner?