JANUARY 30th 2012 – 8 PM
dorkbot.bln
"People doing strange things with electricity."
OFFICIAL PARTNER EVENT TRANSMEDIALE 12 & CTM
Host: Frank Rieger (raumfahrtagentur Berlin)
ENTRANCE FREE
http://dorkbot.org/dorkbotbln/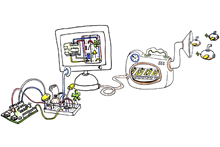 *** Fritzing – André Knörig
http://fritzing.org/
Fritzing is an open-source initiative to support designers, artists, researchers and hobbyists to work creatively with interactive electronics. We are creating a software and website in the spirit of Processing and Arduino, developing a tool that allows users to document their prototypes, share them with others, teach electronics in a classroom, and to create a pcb layout for professional manufacturing.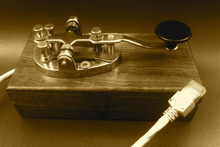 *** Tworse Key – Martin Kaltenbrunner
http://modin.yuri.at/
Martin Kaltenbrunner is Professor at the Interface Culture Lab, University of Art and Design in Linz, Austria, and is known as co-creator of the Reactable, an electronic musical instrument with a tangible user interface. Martin will present his latest exercise in Interface Archeology, the "Tworse key", which can directly send twitter messages through a classic morse key.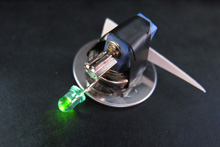 *** Klackerlaken – Mey Lean Kronemann
http://meyleankronemann.de/
Mey Lean Kronemann is an artist, designer and researcher based in Berlin. Mey will talk about her Klackerlaken workshops, where children and grown-ups learn to design and build their own solderless, glowing vibrobots.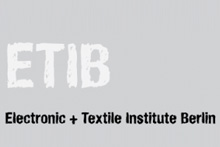 *** etib – Milosch Meriac
http://etib.org/
A new hackerspace is coming up in Berlin! We proudly present etib, the Electronic + Textile Institute Berlin.
Milosch Meriac from etib will talk about the new hacker space. He is also Co-Founder of active and passive RFID open source projects like Sputnik/OpenBeacon.org, OpenPCD.org, OpenPICC.org and committed to RFID related security research.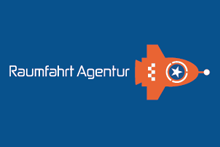 *** raumfahrtagentur Berlin – Gismo C.
http://hackerspaces.org/
Concept and presentation of recent projects of Berlin's based raumfahrtagentur.


More information on http://dorkbot.org/dorkbotbln/
Comments(1)